Get The Best App For YOUR BUSINESS!
You'll love this app as you take control of your everday tasks making the most of your time with simple click set features.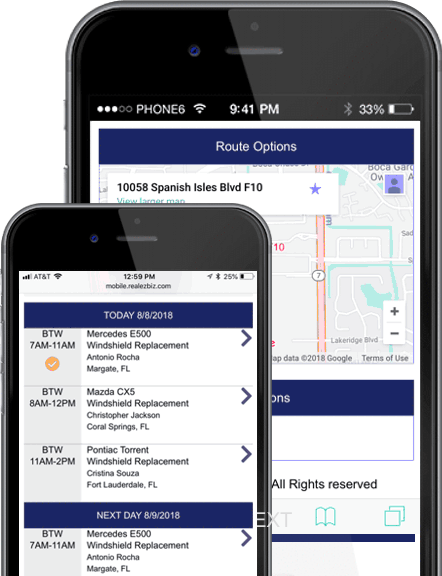 Real Ez Biz Works For Multiple Types of Businesses.
---
Blazing fast app lets you speed Through
---
We work with thousands of companies, including Auto Glass, Car Wash, Mechanic Shops and other small business. We already made their business management EZ, now it's your turn to give us a try!
SMS Notifications
Notify your customers by SMS automatically when you are on your route, of when you arrive at their location.
Desktop Version
Our solution can be also accessed from Desktops for more flexibility and features. No matter you are sitting at your office or on the road, you can control it all!
Calendar View
Organize your day to day activities with an easy user-friendly calendar view that allows to pick tasks by day, week or date range.
Pre and Post-Inspection
Take photos and videos before and after you perform the job. All media is stored in the cloud for your convenience.
Service Calls
All your service calls in one place. You can chose to sort service calls by proximity using our Route Planner!
Payments
Our solution now integrates with Square API. Take credit cards on the go via our credit card payment user-friendly interface.